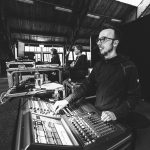 SB Audio Vision is all about passion and professional quality. Knowing that sound can make or break a show, we realize that it is essential to have a sound design that best reflects your production. For this very reason, attention to detail is the core of assuring a successful event and/or production. Everyone has personal preference when it comes to sound – which is why communication is key in order to take into account your preference, taste and desires, after which we work together to find the best solution for your production.
– Stefan Boerman –
What I do

Live Sound
Front of house, monitor and system design built around your wishes in order to make sure you are pleased with the results. Working closely with you in order to create the precise atmosphere that you desire is a top priority. Delving into the details in order to make your sound unique, individual and of high standard as the quality of your sound can make or break your show.

Production
Bringing practical experience onto set in order to help create the most efficient and calm environment to any production. Keeping your production going smoothly is key, and having a dedicated person to be responsible for that task is crucial.

Broadcast & Film
Striving to create a sound design that will emphasise and add to your message, regardless of the platform, whether it be TV or Film.
Placing focus onto every element in order to compliment the visuals of your project, whether that means making your viewer feel as though they are physically within the scene of a movie or standing on stage with the band.

Advice / Training
Analysing the current status of projects and coming up with solutions as to how you can make sure you are getting the most out of your equipment and crew, while keeping your budgets in mind. Whether it be simple consultations or full on mentoring, it's important to ask an outsider's point of view in order to create a balanced outlook on the potential of your project.
Feel like working with me?